Frozen desserts served to you and
your guests!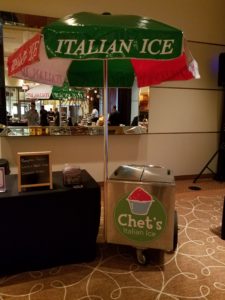 Weddings, graduation parties, employee appreciation days, bar/bat mitzvahs, school
functions and fundraises are our specialty!
First we start by having you choose four of our premium flavors to have at your event. Our efficient set up  allows for service to start within minutes of our arrival. Every one will love lining up in front of our attractive pushcart complete with umbrella. Our cart attendant will be sure to serve every scoop with a smile and accommodate any request.
Choose Your Four.
Want to have more fun?
Lets get started! We want to know all about your event.
Contact us directly or fill out our form:
860-922-1489
Chet686@yahoo.com or Chetsmanager@gmail.com